Ways to Memorialize a Loved One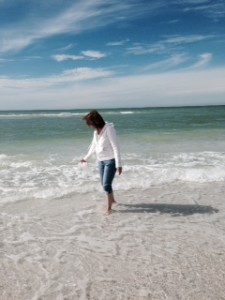 There are as many ways to memorialize our loved ones after they die.  There are religious practices, family traditions and individual preferences.  There is never a right and wrong and we either honor the wishes, sometimes they are set-up prior to a loved ones death or we make a decision based on what we think is best.
I encourage people to follow their heart and that comes from that deep place of knowing what is meaningful to that loved one who has died as well as what is meaningful for the living.  Ceremony is most often for the living, it is a final chance for us to pay homage or honor to someones life.  Ceremony is important and meaningful.
This weekend I participated in the burial of ashes of my good friend in the ocean with her sister and a friend.  She requested this prior to her death and her sister made sure her wishes were followed honored.  It was emotional and yet meaningful, it was a way to send her spirit off and offer us some sort of closure to her physical presence.  We shared fond memories and stories, we laughed – we cried.  We will not forget her, rather we will continue to honor her memory!
It is important to honor our loved ones in whatever way is meaningful to you and your family.  Talk of your loved ones often, share stories and don't be afraid to laugh and cry together but remember our loved ones filled an important part of our lives – right?
If we are remembering a parent, spouse or child they were a significant part of our lives and thus we should continue to talk about them.  Often people tell me that that no one talks about their loved one after they die because they think you will feel bad…think about it, that is crazy because I couldn't feel any worse!   So please, you have permission to talk, share and remember those who were significant in out lives.  My friend Nan who died I had known for over 30 years, that is significant when it comes to friends.  She was one of a kind and I have dozens and dozens to stories to share.  I hope you do too.
I would love to hear about your stories, how have you honored and remembered your loved ones who have died?  Please share in the comments below.

4 Responses to Ways to Memorialize a Loved One