When An Ex-Spouse Dies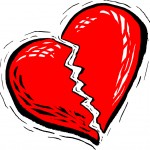 This past week one of my dearest friends told me her ex-husband had died.   She expressed her deep grief and told me that other friends wondered why she was experiencing such grief when they were divorced?
We grieve because we love, simple as that.  Think about people you don't know personally that died. You feel bad for the family, but because you don't know the person who died it doesn't effect you.
We love people throughout our life regardless of how a relationship ends. When we grieve the loss of a marriage from divorce, we also grieve loss of the future and loss of a life partner.   So when an ex-spouse dies it is normal to grieve the loss.  In either case, we grieve what might have been.
Just as people feel grief differently, they also deal with it differently.  My friend felt as if she couldn't mourn outwardly the sadness she felt, but I have encouraged her to share with me some good memories of the times they had together and to acknowledge that his life mattered and the time they were together mattered.
Often when I talk with those grieving a death, it is of utmost importance  to know their loved ones life mattered and one way we can be supportive is to talk about the person who died, share memories and be willing to speak their name.  If there are children involved, keeping positive memories alive often helps children to know that it's okay to talk about their parent and share their feelings.  I don't think divorce should define who we loved and who and how we grieve.
If you have and ex-spouse that died, please share your experience in the comments section below, I'd love to hear learn more about what you are feeling. – JoAnne

420 Responses to When An Ex-Spouse Dies