5 Tips For Hope & Optimism As We Grieve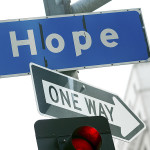 Often with grief comes hopelessness, perhaps with your loss comes additional losses such as loss of income both current and future, loss of support, loss of a co-parent – and this can cause that ripple effect of not feeling very hopeful or optimistic about the future.
As I acknowledge your feelings I also want you to know that in fact there is hope and things to be optimistic about in the future even thought they may not be apparent to you now.  When our loved ones die we don't have to let our life of dreams die with them.  In fact, I have been involved in many support groups and when I ask someone who is grieving if their loved one wanted them to be happy and to go on and live a full life the reply is always "YES, they would want that for me."
As we journey through our feelings of grief, once in a while remind yourself about what your departed loved one would want for you and then I challenge you to take one step at a time to getting back into a schedule of living life.  Here are a few tips;
1.  Write a list of 10 things that you love, things that make your heart sing (don't over think this task, just write)
2. Take ONE thing from your list of 10 and intentionally do it!  Example; So you love art, commit to spending one Sunday afternoon at your local art museum
3.  Begin to get social.  Example; Call a friend or family member to join you for lunch or a movie and allow yourself some fun.
4.  Ask for help!  Okay, we all need help from time to time. So whether it is emotional or physical support, write a list of ways you'd like support and this coming week as one person for their help or support.
5. What would you do if no one or nothing were standing in your way?  No buts, or excuses here – just name it.  The idea is to start thinking again that anything is possible if we open ourselves to the possibility.