Resources
"LIKE" OUR SITE

AARP Grief and Loss Program
Many resources from the AARP includes search for grief support resources in the USA.
Bereaved Parents USA
Bereaved Parents of the USA (BP/USA) is a nationwide organization designed to aid and support bereaved parents and their families who are struggling to survive their grief after the death of a child.
Compassionate Friends
The Compassionate Friends is a national nonprofit, self-help support organization with nearly 600 chapters, offering friendship, understanding, and hope to families grieving the death of a child
The Dougy Center – National Center for grieving children & Families
Meet-Up – Offers Grief Support & Young Widows Grief Support, check your city to see if there is a group or start one yourself.
Grief Share – find a local grief group
Grief Healing – A supportive site for anyone mourning a death
Help Guide- Helpguide's mission is to help people understand, prevent, and resolve life's challenges. We empower people with knowledge and hope.
National Alliance for Grieving Children – help for grieving children
Widow Speak– connect to widows in the US and abroad through their stories
Life After Miscarriage-supports women who have had miscarriages
Faith's Lodge – A place for those dealing with a serious illness or death of a child
Soaring Spirits Loss Foundation – Non profit dedicated to supporting primarily widows/widowers
Financial Help & Benefits For Widows –
The guide is centered on widows and helping them answer common financial questions during this transitional period of their lives.
National Widowers Association – a virtual toolkit for men coping with the loss of a loved one, a place where men can meet others going through the same transition.
Widow Connection – Online grief resource, christian based ministry
The Respite – A Center For Grief & Hope, Empowering Women from Loss to Hope, Charlotte, NC
Online Memorial:
Organizations Worth Mentioning For Their Good Works
Afghan Hands teaches skills to help Afghan widows gain independence, literacy, and a livable wages. At our centers in and around Kabul, women learn to create embroidered shawls and scarves, and the exquisite embroidery they make connects them to a wider world.  You can purchase these beautiful shawls & scarves, & donate to their mission of helping widows CLICK HERE
Beyond the 11th is a non-profit 501(c)(3) organization that empowers widows in Afghanistan who have been afflicted by war, terrorism, and oppression. We support programs that enable widows to support themselves and their families without begging in the street or standing in a breadline. We accomplish our mission in two ways: increasing awareness of the desperate situation of widows in Afghanistan, and raising funds to help them. CLICK HERE to learn more and support this organization's good works.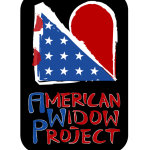 The American Widow Project is a non-profit organization dedicated to the new generation of those who have lost the heroes of yesterday, today and tomorrow, with an emphasis on healing through sharing stories, tears and laughter………Military Widow to Military Widow.
The website is built to house ideas, stories, and advice, we have compiled a multitude of resources to help with the lifetime of struggles that come along with being a military widow.  CLICK HERE to donate & learn more about these courageous women.