Poems About Loss, Grief Poems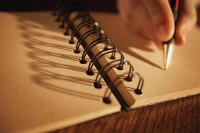 Thank you to everyone who submitted grief poems in the contest.  I was honored to read the heartfelt pouring of words onto the paper and truly felt that the people written about in these poems about loss were those whose life mattered greatly to someone and their memory has  left an indelible mark not only only the family and friends but on all of us who read the emotional & meaningful words.   We never forget, we honor and remember. So thank you.

The winning poem was submitted by Terri Lancaster of Port St. Lucie, Florida.
This poem was written in memory of her son, David who died five days before his 17th birthday.  He was the youngest of her three sons and was in high school when an auto accident claimed his life.  David and his brothers, Erik and Bryan, are the light of my life.  She considers it a blessing and a privilege to be their mother.
"THE SCREAM"
By Terri Lancaster, In Loving Memory of David C. Ford April 17, 1988- April 12, 2005
The smile you see is not all of me, for I am not what I seem.
I laugh and smile but all the while, my smile holds back a scream.
For when I see a little boy, playing on the sand
I think about my little boy, and I  want to hold his hand.
And when I see a dark-haired teen so happy and so free
I think about my youngest son who died at seventeen.
That's when the scream comes welling up, from in my soul so black,
And so my smile must block it in, and laughter hold it back.
I saw him born and watched him grow, into a bright young man.
But through the years I couldn't know  all that God had planned.
The suffering within my heart is evident to none.
I do my job, I play the part, and miss my youngest  son.
And now he would be twenty-one;  I see him in my dreams
I celebrate the milestones while my smile holds back a scream.
For four long years I've ached for him;  his smile and warm embrace
His goals, plans, hopes  and dreams, the loss of all I face.
So, when they say "She takes it well;  she's so strong,  we all can tell.
How well her life continues on, almost if he wasn't gone."
Remember that I'm not so sane; pretending, keeping up the game,
My nightmare life trapped in a dream.  You see, my smile holds back a scream.
 Terri won,  The Book of Awakening" by the poet Mark Nepo, A beautiful journal to continue her writing, A Trauma 2 Art creation kit and $20 gift certificate to Starbucks
 Our Runner up poem was awarded to Alice Wisler or Durham, NC in memory of her son Daniel

I Went to Your Grave Today
I went to your grave today,
taking daisies and roses.
I ate lemon poppy seed bread
and soaked in the warmth of the sun
Seated on a yellow cloth
watching the children run.
I went to your grave today
and felt the soft wind whistle
and the grass tickle my bare feet
I heard the baby cry,
the older ones laugh
and then I listened for you.
I could not see your face
with its bright blue eyes
or feel your head on my shoulder.
I could not touch your hands,
for that body is no longer you,
covered in the grave.
It was the brilliance of your soul
that flooded my senses—-
It was the radiance of knowing what you are,
and what you have become
that energized my heart
when I went to your grave today.
 Alice won a beautiful journal to continue her writing.
Criteria For Judging was:
1. The poem must support the theme of a poem written about someone or feelings relating the the grief following the death of a loved one
2.  The poet evokes response in the reader, appealing to emotions

3. The form and content of the poem complement one another

JUDGES:
Lauren Muscarella founded the non-profit Trauma to Art in 2010.   t2a is an inclusive movement to encourage creative expression from those who have lost loved ones and to promote the globalization of love. Lauren is committed to helping people find the right path to cope with grief by mobilizing the community and encouraging a dialogue about death, artistic creation and the links between the two.
Marty Tousley, CNS-BC, FT, DCC is a certified hospice bereavement counselor who has focused her practice on issues of loss, grief and transition for more than 40 years. As both a bereaved parent and a bereaved child herself, she joined Hospice of the Valley in Phoenix, Arizona as a bereavement counselor in 1996, and now serves as moderator for its online Grief Healing Discussions Groups.
Her own Grief Healing Web site, www.GriefHealing.com, offers information, comfort and support to anyone who is anticipating or mourning the loss of a loved one, whether a person or a cherished companion animal.
Diana Sebzda is a Grief counselor; Director of Bereavement for Karen Ann Quinlan Hospice and the Joseph T. Quinlan Bereavement Center in New Jersey.
Diana is compassionate, and passionate in her mission to offer grief education to everyone. She recently started a website called www.griefgirlfriend.com