Hold a Candle for a Grieving Loved One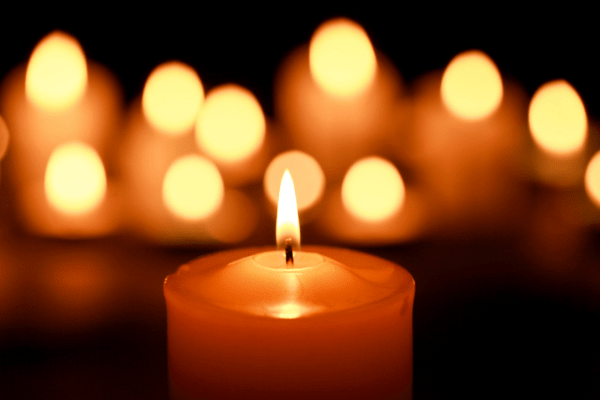 Family & friends can be your light in the darkness of grief.
By Kathryn Haugen
It has now been six months since I lost my beloved husband, Paul, after almost 38 years together. I am totally shocked that he is gone and still feel like he will walk through the door at any moment.
My emotions are all over the place. I can talk to people about what happened in a calm manner and then crack up looking at Paul's shoes. Although I am still in the midst of an emotional roller coaster, I can also see that I am coping better than I could ever have imagined. I attribute that to being fortunate to have amazing support. Sometimes people do not know what to say or do when a loved one is grieving, including me.
Although I cannot say that I have exact answers, I learned a lot from my family and friends. I hope that my experience will shed some light on how to support a grieving loved one by "being there" with them on their path.
The lights went out when Paul died.
Finding my way through each day without Paul is like walking through the dark with an unknown destination. Each day I get up and simply start going through the day one step at a time. Recently, I woke up during the night and was walking into the kitchen. Most of the lights were off, but a nightlight on a corner table cast enough light to see the floor in front of me. I was trying to find my way in the dark and realized how similar it was to how I felt every day. I thought about how family and friends were also shining a light on my path, as if they were holding candles so I could see where to take the next step
In the initial days after Paul passed, the door was always open, and people came in to show their love for Paul and our family. They shared memories of Paul, and we all cried and laughed as we reminisced. Food kept arriving, and the kitchen was cleaner than usual. My sisters alternated spending the night and have been my guardian angels. My children, son-in-law and grandchildren have continued to bring joy into my life, and our relationships have strengthened as we work through our grief together. Their friends from grade school and high school also shared memories of Paul and how he impacted their lives. Through all the sharing of memories, we have all shed many tears but also enjoyed many laughs.
Couples who I thought might fade out of my life have stayed in touch.
One couple has visited several times from out of town. We have had a lot of fun, and they recently spent an afternoon working in our very neglected back yard. Another family has taken me and our kids under their wing and included us in their family events. I frequently receive calls, texts, and cards asking how I am doing. I am enjoying reconnecting with people who contacted me, even though we had not talked for years. Friends have invited me to lunch and dinners and even drove out of their way to take me. My counselor has helped me focus on taking care of myself and to have the courage to feel my grief. It is through being able to talk to people and to feel safe expressing my feelings that I have been able to begin to heal.
These family members and friends remind me of my nightlight, as they cast light on my path in the darkness. The light they bring into my life shines bright enough so that I can take the next step and then the next. I am not scared and lost in the darkness of losing Paul, as I might be without their light. Many are also in pain from losing Paul, but they have the courage to face their own sorrow to help us cope. All I can say is thank you so much for my health and sanity. I never imagined I could feel so much love through so many tears.