Journaling through Grief: Finding Your Relief Valve
The mind really can be like a steel trap. Our thoughts and feelings swirl around inside our heads without an outlet, causing a buildup of pressure and grief – especially in a situation as devastating as the loss of a loved one.
But there is a relief valve: Putting your thoughts on paper.
Journaling is a form of self-expression that comes with no rules, boundaries or expectations that anyone else will ever read what you write. But by getting those thoughts out of your head and onto paper, you open your mind to valuable insight and healing.
How journaling has helped me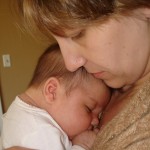 When my daughter, Isabelle, passed away in 2007, I had gallons of guilt stored up inside of me. I shouldn't have brought her to daycare that day. I shouldn't have put her in that outfit. I should have told her I loved her one more time …
I let the guilt simmer up there for a day or two before I opened my notebook, cranked that valve wide open and let my feelings spill onto the blank pages. In the beginning, there were only words: "devastated," "shattered," "depressed," and frequently the question, "Why?" But then came the sentences: "I feel like there's an empty void inside me that will never be filled …" And eventually there were paragraphs.
As I scribbled on the pages, not caring about the legibility of my writing, I felt the pressure ease out of my head and felt the constraints loosen around my chest. I allowed myself the time I needed to feel sad or angry or lost without apologizing for those feelings. Instead, I encouraged them. Armed with my pen and paper, I had a newfound weapon to help me stand up against the loneliness of grief.
Time has passed – four-and-a-half years – and the sharp edges of loss have softened a bit for me, but I continue to write in a journal. Sometimes I incorporate photos or drawings into the pages when words are hard to find. My entries have changed as my journey has changed, but the benefits remain the same.
I often write before bed, taking 15 minutes or so to clear the clutter from my head. Other times I give myself a writing prompt to help me reach deeper into the moments I treasure the most.
Getting started
Finding a journal in which to record my thoughts is my favorite part. Barnes and Noble has an incredible selection, but a simple notebook will do the trick if you want to get started right away. The only rule is that you refrain from judging the words you choose to use. Write freely. This journal is for you, not for an audience.
Here are some ideas to get you started:
Write one word for the most prevalent emotion you feel right now, then write a brief paragraph describing the details of that emotion to someone who has never experienced it before.
Heaven's Mailbox: Write a letter addressed to your beloved. You can write about your day, share a favorite memory about him or her, or tell your beloved the things you miss most.
Letter Poem – Write the letters of your beloved's name vertically on your journal page, then write a word or sentence using that first letter.
Treasured Moment – Recall a treasured moment. Draw lines to divide your paper into five sections labeled "Hear," "See," "Smell," "Taste" and "Feel." Close your eyes and focus on one sense at a time. When you're ready, write down words and sentences related to that sense.
Whether you've just experienced loss or you're 10, 15, 20 or more years out, journaling can act as the relief valve to help release some of the burden that often weighs so heavily on your mind as you continue moving forward on your journey.
Amy Lyon lives in Prior Lake, Minnesota, with her husband Chad, son Wyatt and angel in Heaven Isabelle. She is a community newspaper editor and the author of "Beyond Belief: A memoir of death and rebirth," to be released September 2012 from Chalice Press. www.amylyon.com