Free Grief Sympathy Card
As my gift to you, I'd like to mail you 4 grief sympathy cards. The grief card is designed for you the mourner to give out to those people you want to understand, remember and support you along your journey through grief.
We are not meant to grieve alone, and yet many people do not know how to support you. You can give them this small card where you write in the name of your loved one who has died, the date of the death, and your name.
Below is a picture of the front and back of the card, the person you give this card to will appreciate the simple tips on how they can support you along the way. Please email me (joanne@heartachetohealing.com) with your Name and Address, in the Subject line write: Free Grief Sympathy Card and we will mail out your cards right away.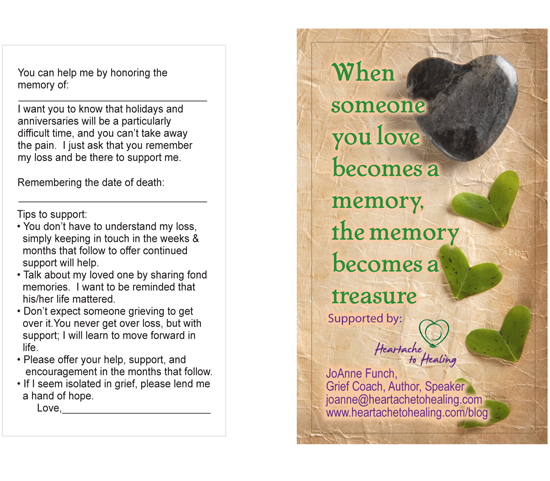 Need more cards to give out? You can order them at a minimal cost to offset the printing & mailing costs;
If you want larger quantities for your group or organization, please email me: joanne@heartachetohealing.com
or choose from the additional quantities below: