My Heart Must Go On – Grieving a Child's Suicide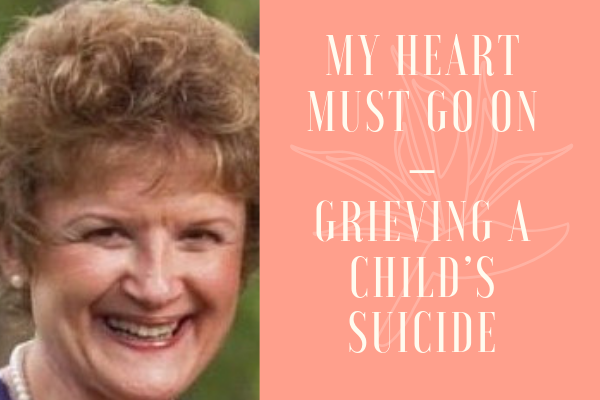 I can no more stop loving my child who lives than I can stop loving my child who died
Dare I return to the beginning of sorrows? Yes, I dare to return to my story, but in a different way ~ through my heart. My heart was no more than a beating, necessary-for-life organ until my son's heart stopped beating.
Over the years I have thought more deeply, even spiritually, about this vital organ and I will share some of my thoughts with you for your consideration and response if you like.
Now at year thirteen, I have had a longer period of time (more than most) to reflect on the loss of my firstborn to suicide. He was such a tiny human at birth. He came early and was born breech, weighing a smidge under 6 lbs. I thought he was huge to birth as I stubbornly stuck to my original plan to do a natural birth. Not sure I'd do that today, but I did it then.
He was tiny and perfect. I fell in love with every inch of him. Ten fingers, ten toes, with wrinkly skin all over, I thought he was the most beautiful baby ever. My heart swelled to bursting with love for this little one.
My firstborn was a toddler when his brother was born. The two of them were close, like two peas in a pod, and did everything together. They fought hard and they played hard. I didn't appreciate the fighting, but I loved watching them at play, their heads touching while they were engrossed in something.
My boys remained close as they grew up, choosing their own friends and particular interests, but I soon noted changes that were troubling in my firstborn. I did my best to be there for him, encouraging him to talk since he was more quiet and introverted than his brother. My firstborn lived for 30 years. He died two weeks before his 31st birthday and within hours after I had a cheerful conversation with him. He was found the next day in his apartment. The Police said he died by suicide.
I will tell you that the pain of loss is in equal measure to the unconditional love a mother has toward her child. That love does not end with the child's last breath. That love is permanent and non-negotiable. It is fixed for life. I will feel this deep, ferocious love for both of my children until I draw my last breath. I can no more stop loving my child who lives than I can stop loving my child who died. This love after death stays the same depth, therefore I cannot forget my child. Do not worry that you will forget your child (or other loved one). The details of their being are etched in the lining of your heart.
Thinking about my love that won't let my child go makes me more aware of my heart which has been designed by the Master Designer. He created deep pockets in a mother's heart to hold both memories of laughter and tears. He designed a mother's heart to be neither fickle nor temperamental. A mother loves unconditionally. She is unable to love otherwise, this child she bore or adopted. This love is complete. It needs no adjustments and transcends Planet Earth.
God loves all of His children. Each one is His creation with His loving stamp of approval. I picture Him sitting back on His heels after designing each one of my boys. With a smile tugging at the corners of His mouth He says. "There you are. Now you are perfect and ready to be delivered to your mom. She's gonna love you with the heart I gave her. Never forget that no matter how much she loves you, I still love you more."
So what is a mom to do with a heart that won't forget and always grieves? I cannot speak for you, but I can answer in my frailty as a mom. My heart must go on. I must go on loving those God has entrusted me to love and live my best life with hope. Hope walks beside me in my grief since I believe that it's just a matter of time before I will be reunited with my firstborn again. We will hug each other not wanting to let go. We will be all smiles as we face life together in the beauty of heaven where there is only joy forevermore.
Gracie Thompson is retired in Ohio and has found comfort through writing about the loss of her son, Greg. After completing her first book, Shattered by Suicide: My Conversations With God After the Tragic Death of My Son, she took up blogging on social media (see hopeispossible.wordpress.com) to encourage others who are struggling with the loss of a loved one.